本帖最后由 天蓝蓝 于 2021-8-7 19:11 编辑

Simone Biles congratulates Guan Chenchen after competing in the women's balance beam final at the Tokyo Olympics. Mike Blake / Reuters
Aug. 6, 2021, 10:03 AM EDT
By Rhea Mogul and Christina Ching Yin Chan



Another user's post on Weibo, praising the athletes' show of sportsmanship, had been shared more than 27,000 times and received more than 172,000 likes.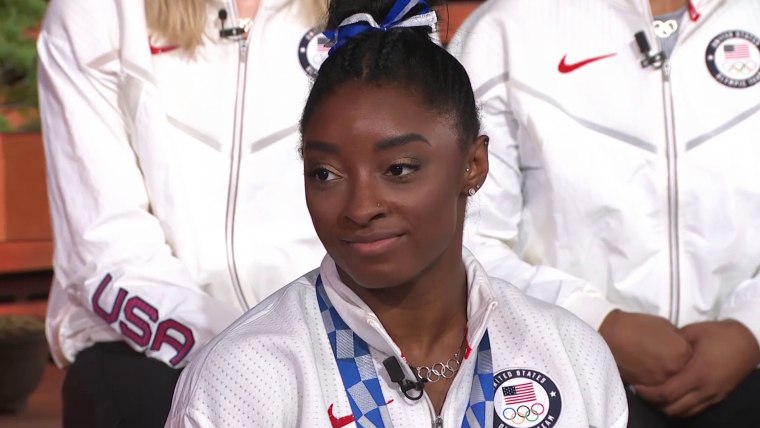 Simone Biles: 'We're not just athletes or entertainment'Aug. 3, 202105:47"This is the moment that I like," one user posted alongside a photograph of Guan and Tang embracing after the results, while Biles and Lee watched over smiling.


At a news conference after the event, Biles said she was honored to be sitting next to Guan and Tang.

"They did absolutely amazing," she said, according to The Associated Press. "I watched them train so hard, so they are definitely deserving as one and two."





But athletes at the Tokyo Olympics have demonstrated what some hope to see more of: empathy and camaraderie.

"The whole picture gives me the feeling that this is a normal human emotion, regardless of color and nationality," Weibo user Pepper Wo wrote. "It's pure human."

Another user, Sean Turing, wrote: "People who talk about politics in the Olympics, I understand them. People who show human love and peace in the Olympics, I respect them."

In a similar show of solidarity last week, Mutaz Barshim from Qatar and Gianmarco Tamberi from Italy, decided to become co-champions of the men's high jump event.

After both successfully cleared the 2.37 meter mark, they attempted to pass 2.39 meters in a bid to win sole ownership of the gold medal — but neither succeeded after their three attempts.

Instead of continuing, they agreed to share the title, and embraced each other in an emotional display of celebration.